Let us help you radically transform the way you sell or launch your online offers with automated
so you get leads and sales on autopilot
Online Experts, Coaches, Course Creators, Consultants
Then, We have a GOOD NEWS for you :)​
We can help you with building a fully functional funnel for your 
business that will be optimized for maximum conversions!!!
This is how we can help & automate your business
Research Phase
In this phase we will look into your competitor's business, their funnels, ads, offers, emails, designs etc to make sure you are on the right track. Build Phase
In this phase we will build your funnels and work on design, copy, tech integrations, email setup, domain setup, add the pixel, google analytics code. Launch Phase
Once the funnel is approved by the client, we mobile optimize the design, optimize the page load speed, do the test purchase, also do split testing if required.
Types of funnels we can help you with...
Few of Our Recent Funnel Builds
Please wait for all images to load
Real People, Real Reviews
Suveena is experienced in funnel design and creation and also very knowledgeable with the click funnel process. She has a great eye for design and knows how to strategically Market and place copy/content that produces conversions. She is pleasant and easy to work with and I highly recommend her services.
Suveena was great to work with! She knows her way around Click Funnels and works very quickly! She completed every edit I requested and went above and beyond to help me connect everything even after she delivered my order. She helped us tremendously in completing this project.
I had a great experience working with Suveena.  She was easy to reach. I was apprehensive about building my sales funnel even though I had learned about marketing and sales funnels from a course I took.  So I loved having her there to "hold my hand" in a way but was also very happy at the professional work she did for me.  She saved me so much time from having to do it all myself.  I will definitely be working with her in the future and of course, I would recommend her to anyone who wants to build a great sales funnel.
Meriah Devis - Health Coach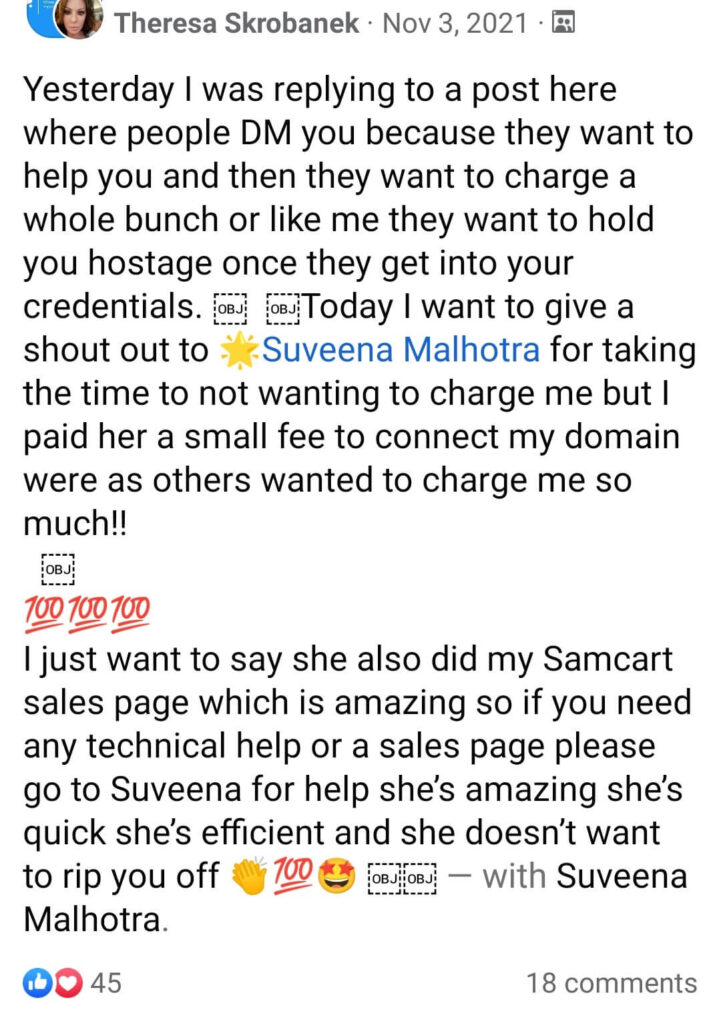 "Your work is truly appreciative"-
Nana Bonsu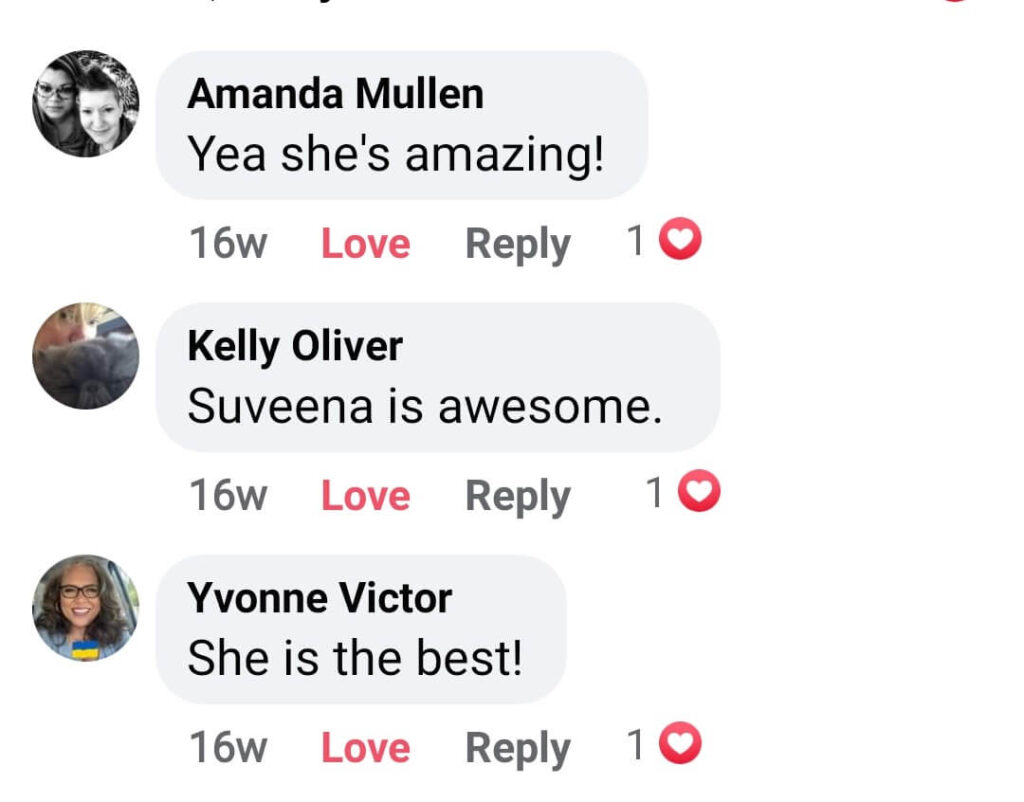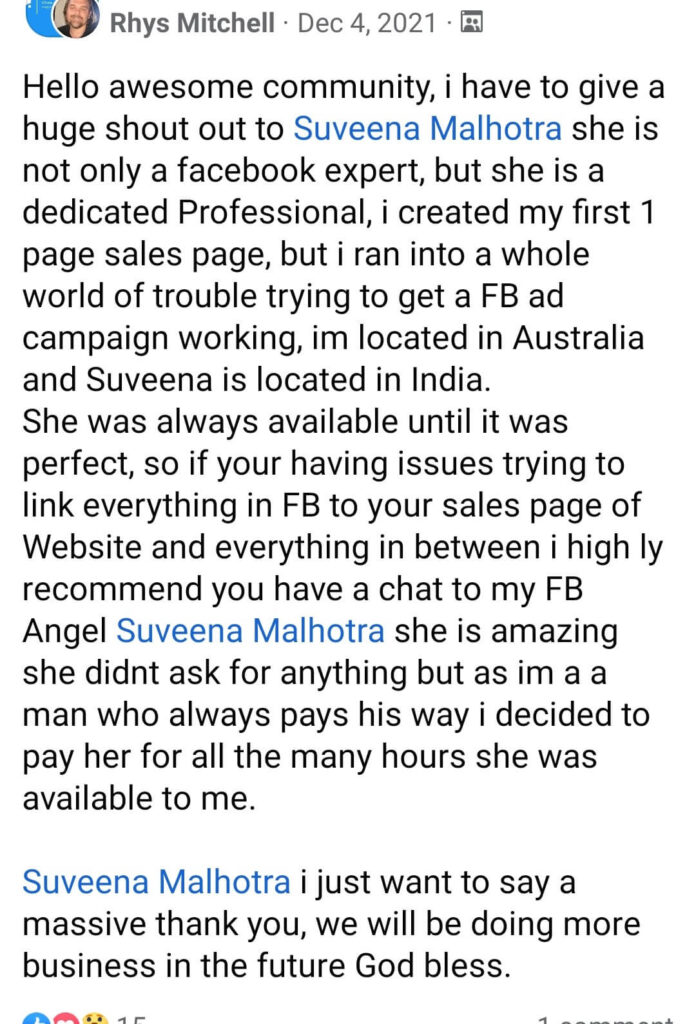 "I highly recommend her services"- Conor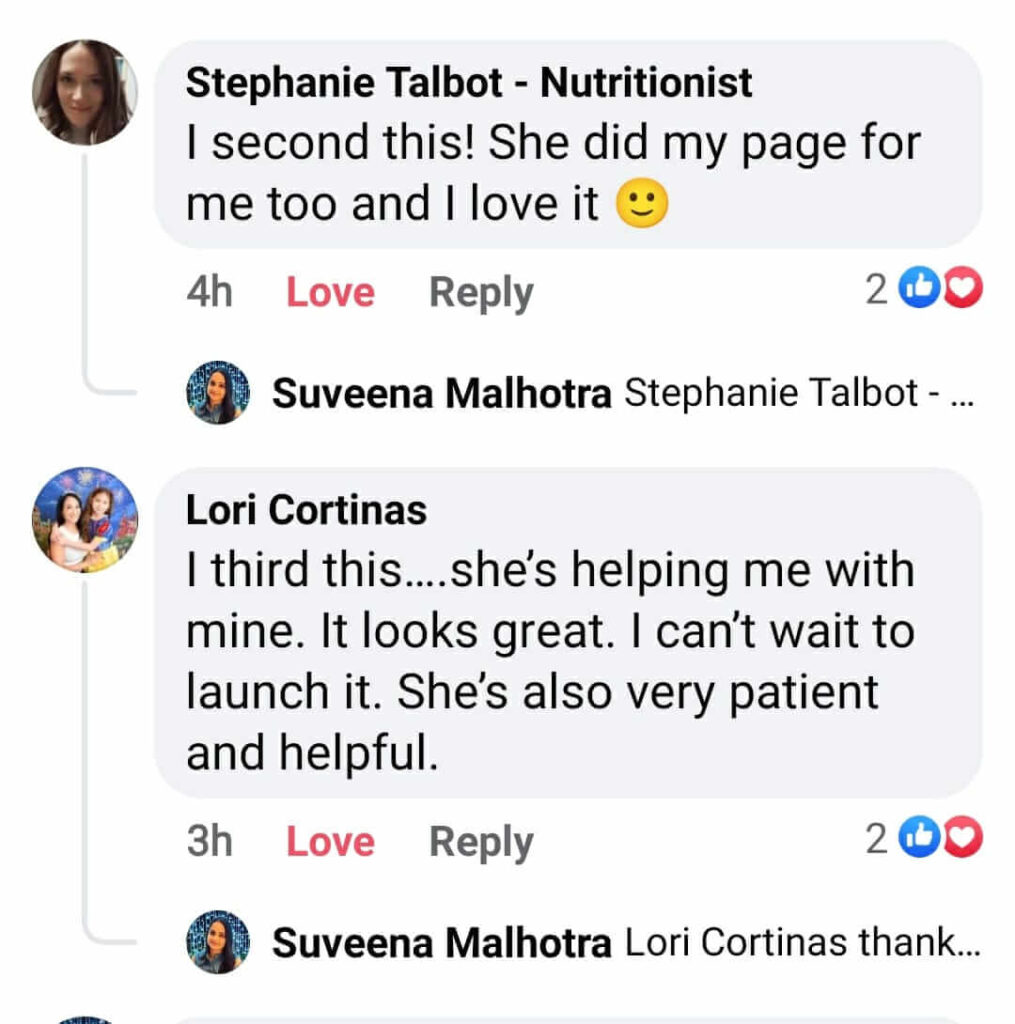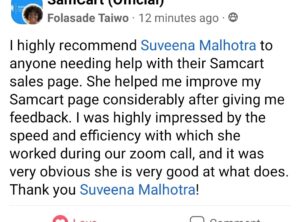 The design was great, it was done in a timely fashion and communication was great. All around great designer to work with.
Joe- Shantel - Royalicious
It was fun working with suveena. Highly recommend her for her digital marketing services.
I am new to clickfunnels and went through the 30 day OFA Challenge. In those 30 days I created my very first funnel. I was actually impressed with my work but then noticed that everyone else's funnel also looked like mine… That is until Suveena did her thing and transformed my funnel into a piece of artwork. I am so impressed. She actually captured my voice better than I did. She did a stellar job – from the colors she selected, the copy, the images… Wow! She is really into the details, created a standout funnel and I am throughly impressed.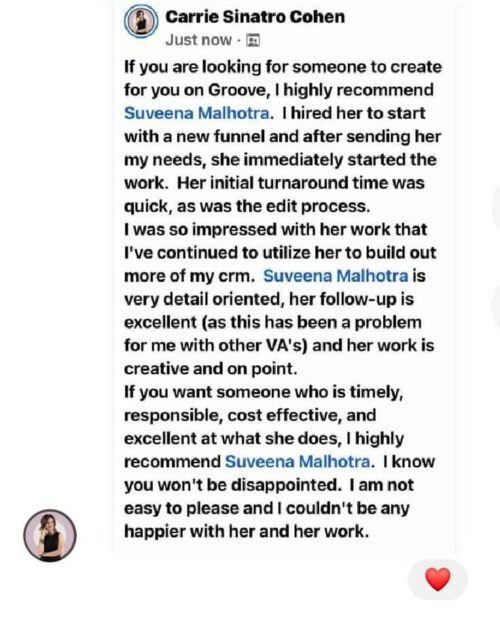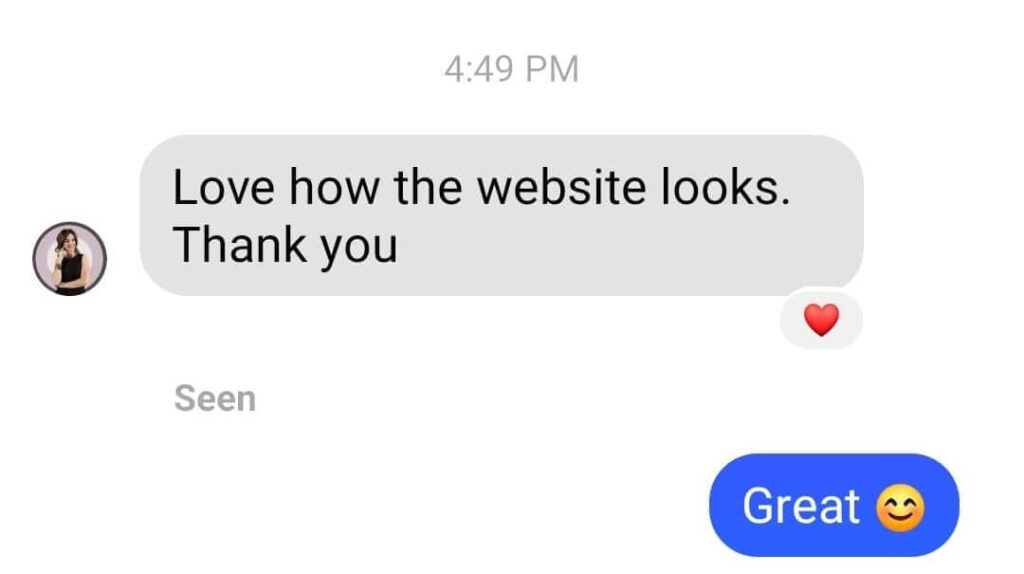 One of our sales funnel client's results. She was able to make 5.8K USD within 5 months with selling a low ticket course to more than 150 clients from a cold audience at the front end using Facebook ads.
One of our sales funnel client's results. She was able to make 20K USD within 30 days and more than 100K USD within less than 60 days using paid and organic marketing strategies.
One of our client's results. She was able to get 64 orders for her frontend Ebook offer with in a week time using organic marketing strategies.
Imagine having systems and automations in place that get you predictable leads and results. So you can work ON your business and not in your business.
You have been told a lie that websites are enough to get you leads and sales. Well, in reality, they are just collecting dust and doing nothing for your business. Whereas, one good funnel build on a strong strategy can literally MAKE or BREAK your business. So, don't think that funnels don't work only bad ones don't.
So, please do a small favor to your audience, build a funnel that will take them on a journey that provides value & solutions to their problems.
I AM JUST ONE CALL AWAY.
CLICK THE BUTTON BELOW TO BOOK A CALL.
I am a sales funnel builder and a consultant. I mainly help coaches, course creators, consultants with their launches by putting together a strategy and systems in place like Sales Funnels and Automations, so that they can launch successfully without being worried about tech work or losing potential customers.
Before having my online business, I was working in a corporate job for more than half a decade, then one day I decided to break free from the shackles of 9-5 and start my own online business to achieve a more fulfilling, rewarding life and to be able to spend more time with my family. Now I am helping other people launch their own online business so they can achieve what they want at a personal and professional level.
So, if you are an entrepreneur or a business owner wanting to monetize your expertize with converting sales funnels so that you can concentrate on your area of genius, I would be happy to help you and get desired results.
Just hop on a quick discovery call with me and we can discuss if we are a good fit.